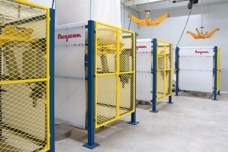 Click to enlarge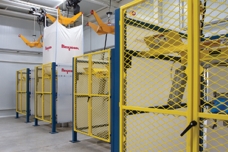 Click to enlarge
Seven Bulk-Out® model BFH-C-X half-frame bulk bag dischargers feed 70 tonnes per day to packaging machines on the floor below. An electric hoist positioned over each discharger lifts the bag onto the half frame.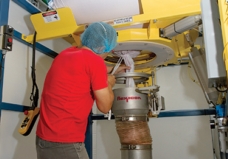 Click to enlarge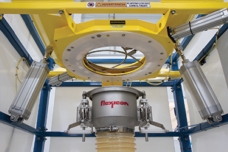 Click to enlarge
Operator pulls the bag spout through the Power-Cincher™ flow control valve in which four elliptically contoured bars cinch the bag spout concentrically, enabling partially emptied bulk bags to be retied and removed.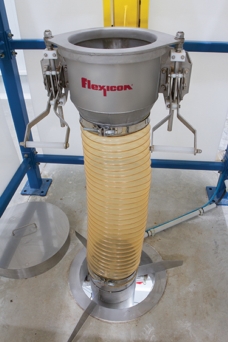 Click to enlarge
The Spout-Lock™ clamp ring creates a sealed connection between the clean side of the bag spout and the clean side of the Tele-Tube™ telescoping tube, which raises the clamp ring for connection to the bag spout and then lowers, applying continual downward tension to promote flow into packaging machine on the floor below.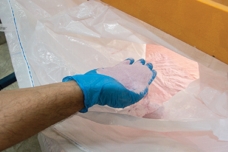 Click to enlarge
The bulk bag discharger system handles Prosur's (Productos Sur) powdered extracts from fruit and spices including food blends, natural flavours, and food products based on natural antioxidants and natural preservatives.