CASE HISTORIES

Mr. Espresso Upgrades Flexible Screw Conveyor Operating Since 1991
OAKLAND, CA — Coffee connoisseurs in the San Francisco Bay area often source their favorite brews from a famed local roaster called Mr. Espresso. The company, which opened in 1978 selling Italian espresso machines to restaurants and cafes, has supplied gourmet coffee, including espresso blends, since 1982.

The family-run business, founded in Oakland by Carlo Di Ruocco, promotes traditional Italian coffee making through the artisanal nature of its operations. One example is an innovative oak wood fire roasting technique that releases robust coffee flavor. Another is a company culture that values old, reliable machines.

One such is a flexible screw conveyor from Flexicon Corporation that Mr. Espresso purchased in 1991. The conveyor and hopper transport ground coffee to a packaging machine from two grinders that also have at least a quarter century each of service, says John Di Ruocco, operations manager and son of the founder.

A rugged flexible spiral is the only moving part that contacts the ground coffee. As it rotates, the spiral self-centers within a flexible plastic tube, providing uniform wall clearance that eliminates or minimizes grinding or clogging of the material.

"This is a problem-free way of transporting ground coffee," Di Ruocco notes. "Any other conveying option would entail higher cost with no additional benefit. When a machine works as well as this one does, there is no need to replace it."

However, the company recently required the addition of a stainless steel hopper cover, and initiated a request through Flexicon representatives at the Specialty Coffee Association of America Expo in Atlanta, GA.

The cover measures 36 by 36 in. (91 by 91 cm), says Di Ruocco. Flexicon customized the cover with two inlets that mate with each grinder discharge chute. For easy access to the interior of the hopper, a hinge runs the length of the lid creating a 36 in. (91 cm) long door that swings up.



Filling coffee packages for 25 years


An operator manually loads roasted beans into the hoppers of the grinders, which are positioned on either side of the 8 cu ft (226 l) capacity hopper. Ground coffee flows from the grinders into the hopper, which charges the 3 in. (76 mm) diameter flexible screw conveyor. The coffee is then conveyed 10 ft (3 m) at a 45 degree incline to a filling machine for 2.75 or 7 oz (78 to 198 g) packages.

Despite its age and lack of modern controls, the flexible screw conveyor continues to reliably and automatically deliver ground coffee to the filling machine, for a quarter-century of productivity for Mr. Espresso.

"With the new stainless steel cover in place, the conveying systemhas many years of service ahead," Di Ruocco says.



Mr. Espresso

510-287-5200
www.mrespresso.com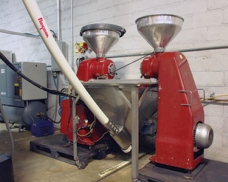 Click to enlarge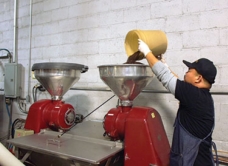 Click to enlarge
Coffee is discharged from two grinders into the 8 cu ft (226 l) capacity hopper that charges the flexible screw conveyor.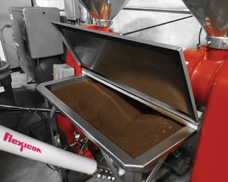 Click to enlarge
The 8 cu ft (226 l) capacity hopper and cover are fabricated of stainless steel with sanitary finish.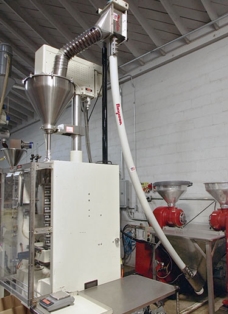 Click to enlarge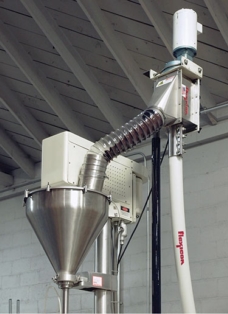 Click to enlarge
A flexible spiral is the only moving part contacting the coffee, which is discharged below the point at which the spiral connects to the drive motor, preventing material contact with seals or bearings.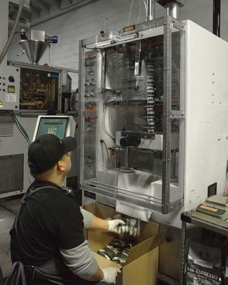 Click to enlarge

Click to enlarge
The packaging machine outputs 2.75 or 7 oz (78 or 198 g) packets of gourmet coffee for customers throughout the Bay area.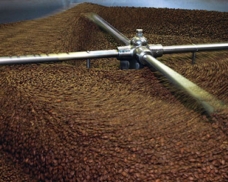 Click to enlarge
Oak wood roasted coffee: Mr. Espresso boasts it is the first and only roaster in the United States to roast coffee beans over a fire fueled exclusively by wood.
EE-0710