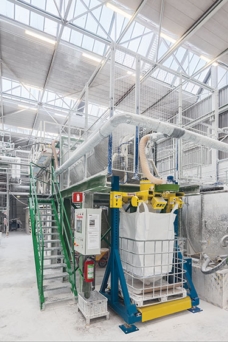 Click to enlarge
TWIN-CENTREPOST™ design strengthens bulk bag filler frame as material is filled directly from the mixer above. Fill time has been cut by two thirds by automation and a densification deck that deaerates and densifies the bulk hydrated alumina material.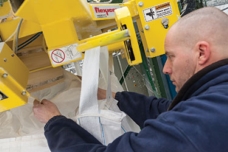 Click to enlarge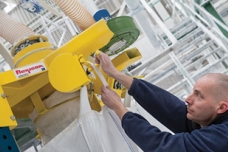 Click to enlarge
The operator slides the bag spout onto the inflatable collar and attaches bag straps to retractable hooks that support the bag during filling.

Click to enlarge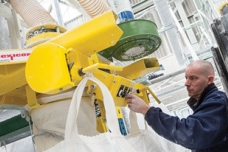 Click to enlarge
Operator activates the inflatable collar to form a secure, dust-tight connection, and then actuates the bag inflation blower to remove creases in the bag prior to filling.

Click to enlarge
At the control panel, the operator programs the weight to be filled, and initiates the filling cycle. Load cells supporting the filler frame transmit weight gain information to the PLC, which closes a pneumatic slide gate valve when the bag achieves its target weight.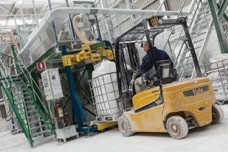 Click to enlarge
Forklift truck removes palletised filled bag.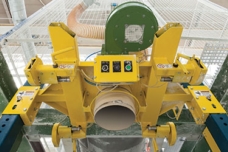 Click to enlarge
View from below shows the fill head, forklift sleeves for adjusting the fill head height, retractable bag hooks for supporting the bag, and vent for capturing displaced air and dust.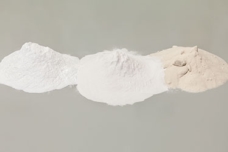 Click to enlarge
TOR Processing & Trade ships hydrated alumina in bulk bags for applications such as flame retardants and fillers for laminates, solid surfacing, ceramics, plastics, and composites.